Regular price
Sale price
$25.99 USD
Unit price
per
Sale
Sold out
Buy more, save more!
Disoucnt can be applied to all products.
Buy 2 and get a 10% off discount!
Buy 3 and get a 15% off discount!
Buy 4 and get a 20% off discount!
FREE SHIPPING

30-DAY RETURN

LIFETIME WARRANTY
Pretty landscape paintings and pleasant color match make packing cube set attractive in both looking and design. High compression performance also adds more highlights to this travel accessory because of double zipper system.

Incredibly durability of the travel packing cubes printed lies in superior ultralight rip-stop, dense and extensible nylon fabric. Quick grab handle for easy access to pulling out packed cubes from suitcase or backpack.

High capacity travel packing organizer. The large compression packing cube can hold 1 jeans, 2 pants, 2 shirts and a cardigan. Medium holds 6 L size T-shirts or several underwear/socks. Also all keeps well organized when arrives. Large Dimensions Compressed Size: 14x10x1in, Expanded Size: 14x10x4in; Small Dimensions Compressed Size 10x7x1in, Expanded Size: 10x7x4in.

High-density nylon fabric decides travel packing bags' good job in water resistance and dustproof. Even no worries about insects crawling into the bags when travelling.

Want packing cubes to well sort items for carry on luggage or travel backpack? Do never miss out our compression / expandable travel packing cube print. LIFETIME WARRANTY. Enjoy your next trip.
Share
View full details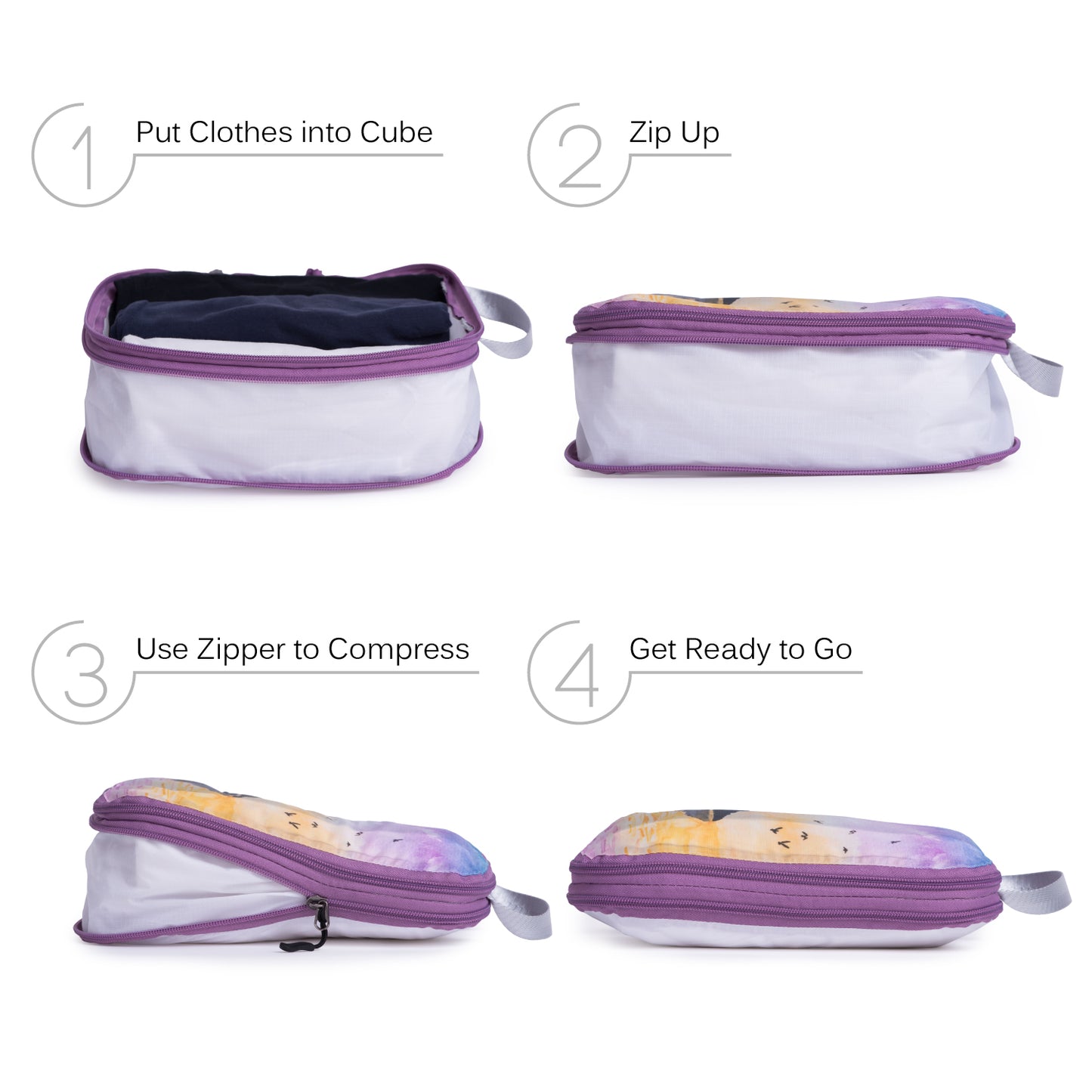 Painting 4-piece compression cubes review
Provides 2.5" of diameter compression around center
By design, compression packing cubes regardless of brand will turn a rectangular cube into a tight rounder shape with smaller compressed edges and a thicker center. To appreciate these, you have to manage expectations--no compression cubes will transform a cube into a uniformly flatter cube, so while these absolute save volume overall, it doesn't mean the space you save in your bag will be convenient to use.All of that being said, this product definitely performs. I tested it with five pairs of leggings on the smaller cube (7"x10"). You can see the dramatic change in shape from the side view before and after pic I took--there is no doubt that it compresses really well. Based on my before/after measurements from the center of the cube, it was about 20" before, and went to 17.5" after. It doesn't seem like a lot, but it takes off a few inches in each direction which means overall it does save quite a bit of space.As for the quality of the bag, the zipper was sturdy and the seams held up without looking like they were going to snap. They each have a convenient handle on top to easily grab what you need. Overall I'm really pleased with these packing cubes!
Great organizers
Just keeps the small stuff like socks & underwear organized. & nicer big stuff like blouses from getting bunched up
Lightweight - easy to unzip, zip and compress. Love it!
Like everything about it so far - lightweight, easy to pack and unpack, easy to compress!!
Nice!
these are great! work very well! love the patterns!